About This Project
Thank you to KUSI for hosting the Leukemia & Lymphoma Society San Diego Man and Woman of the Year!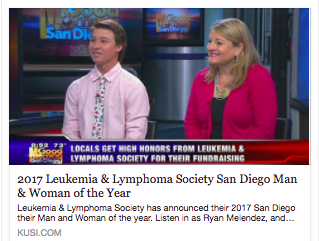 Congratulations to our 2017 Man & Woman of the Year!
Ryan Melendez and his team Praying for The Ryan Melendez raised over $300,000 through his campaign!!! Ryan has been identified in the TOP 5 Man of the Year fundraisers – coming in with the 4th highest Man of the Year fundraising total in the country!
Nicole Matthews and her team Heroes for Hazel raised over $128,000 through her campaign!!! Nicole now holds the record for the highest fundraising total as San Diego's Woman of the Year!